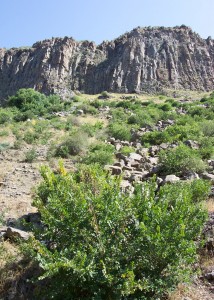 Despite the harshness of winter in most parts, the fertility of the Armenian plateau's volcanic soil made Armenia one of the world's earliest sites of agricultural activity. This is the reason that there have been many great civilizations there in the region.
Today the Armenians live there, surrounded by the Caucasus mountains. In Armenia they mostly speak Eastern Armenian. While Western Armenian was the language spoken on the Turkish side of the border and of many people living abroad in diaspora.
The Armenian language is an Indo-European language,
Read more:
PS: To conjugate some sample verbs in Armenian, install Verbix for Windows.