Google Maps is one of my favorite tools that I use when surfing in the Internet.
Today I zoomed to islands outside the Estonian coast, and guess what? I found an island with the following names of villages: Borrby, Rälby, Diby, Norrby, Söderby, Hosby, Sviby, Bussby, Förby, and Saxby. All these names are typical Swedish names.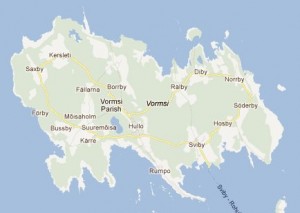 Looking back in the history, there's a good reason for the Swedish place names; during most of its history, the island has been inhabited by Estonian Swedes ("rannarootslased" in Estonian or "coastal Swedes" in English), whose population reached 3,000 before World War II. During the war, nearly all of Vormsi's population, along with other Swedes living in Estonia, were evacuated, or fled, to Sweden. The island's current population is approximately 240 inhabitants.
Links: