I read another day in the newspaper about a Sami person who told that, in order to learn Finnish and Finnish ethnohistory, they should study Sami.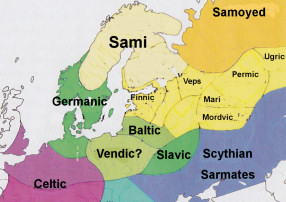 Having read the text, I remembered a map in a book that I read recently. And the map showed how the only people that dwelled in Northern Europe were Sami.
The map to the right shows the linguistic situation in Europe in 600 BC. The Sami people are displayed in light yellow, and the other (Fenno-)Ugric languages in yellow. As seen the ancestors of today's Finnish speaking population lived in today's Estonia and in a very limited area of today's Southern Finland coast area.
Since then both the Finnish and Germanic tribes have pushed the Sami northward.
More to read: