In summer 2009 I convinced my family to visit Värmland during our summer vacations in Sweden — although Värmland was aside from our planned route.
So why did I want to visit Värmland?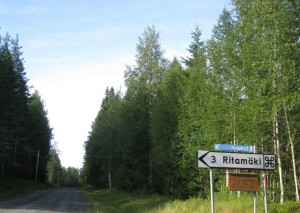 Well, I had read that pretty recently there were Finnish speaking people living there: "The early 17th century marked the beginning of a substantial immigration from Finland. The areas where they centred were known as Finnskog. They kept their Finnish customs and language until the late 19th century. The last native resident to speak Finnish here died in the 1980's.".
After all we didn't expect to talk there in Finnish, or more specifically "Forest Finnish". But it was more than astonishing to see Finnish names on the traffic signs in the heart of Sweden!
Links: